See also:

go to Fishers Hill page.. (includes aerial photo)

go to Anjou Bridge page..


THS Site




Origin
Titchfield Abbey was founded in 1231i
For detailed information about Titchfield Abbey, see Titchfield History Society, and its publications
THS Site
http://www.interalpha.net/customer/titchfield/ths.index.html
Extract: Just to the north of the Titchfield village centre are the Abbey ruins. Locals use a variety of names for the buildings which reflect the changes in use, Titchfield Abbey, Titchfield House, Place House.
The Abbey was founded in 1231 for the White Canons by Peter des Roches, the Bishop of Winchester. Henry V stayed here in 1415 while his invasion fleet was being assembled. His son, Henry VI, was married in the Abbey to Margaret of Anjou in 1445.
At the dissolution of the monasteries by Henry VIII the Abbey passed into the possession of Sir Thomas Wriothesley, the first Earl of Southampton. He demolished most of the building and built Place House, "a right stately home embattled". The Third Earl was the friend and patron of Shakespeare and it is believed, but not proved, that Shakespeare stayed in the Place House. Local legend maintains that Romeo and Juliet was performed here.The fourth and last Earl gave shelter to Charles I on his flight to the Isle of Wight.
Images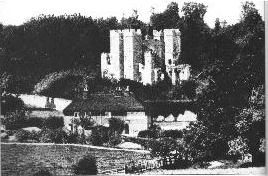 Titchfield Abbey c. 1910. The building in the foreground was called the 'Railway Inn', built in the 1880s to cater for the workers building the railway between Fareham and Southampton. The pub is now called the 'Fisherman's Rest'.
Zoom in on picture..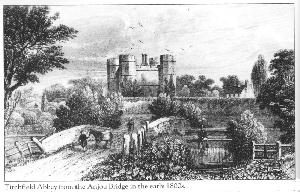 Titchfield Abbey and Anjou Bridge, sometime in the 1800's.
Zoom in on picture..