WELCOME

see also:


go to St Columba Church / 106 Club..

go to The Limes..







and in due course there will be a page on the saga
Redevelopment of The Wine Stores Area..



Origin

Key Dates:

1957: Catisfield Superstores shop opened (with flatlets above)




1958: Discount Wine Store opened in the Superstore (owned by Dickie Downes, run by Daphne Downes (then aged 15). This was in the early days of discounting of alcohol, before the supermarkets majored on drink. People came from many miles around - Catisfield was famous for the Wine Stores.




1973: The new Catisfield Hotel building built, with the Wine Stores forming the ground floor. The hotel was aimed at the general and business traveller. Its restaurant achieved recommendation by 'Les Routiers'.


The shop expanded, including a proper butcher and so on.



1990: Wine Store closes




1992: Shop (general stores) finally closes (building continued to be used by variety of other businesses)




1999: Shop (ground) floor converted into hotel annexe accommodation. Hotel slowly becomes more and more of a 'hostel'.



How Did 'The Hinton Hotel' Get Its Name?
No, it wasn't just coined as a mis-leading variation of the well-known Hilton Hotels brand. In early 1994 the running of the 'Catisfield Hotel', which opened in 1973, was taken over by Clive Brandy. Clive was a semi-retired comedian, friends with Jim Davidson, Des O'Connor, Freddie Starr etc. and was once Norman Wisdom's manager. With a flamboyant life-style - he was 22-stones with two ex-wives and a liking for brandy (which is where he got his stage name). Clive's girl-friend, who helped him run the hotel, was a Mo Hinton…… (information source: Portsmouth News 11 Oct 1994)
The '106' CLUB, CATISFIELD, 1963 - 1979

1963: In May Mr Dicky Downes bought the deconsecrated Tin Tabernacle, St Columba, built in 1891. Later that year he opened the building as the 106 Country Club. Rather than have two Country Clubs, he changed the Limes into a hotel and pub. He gave the ownership of the 106 Club to daughter Daphne and her brother, Richard. equally, though Mr Downes continued to run the club.

1979:. The '106' Club closed. The running had been leased to a Hugh Curtis. The standards of the club had deteriotated. Richard and Daphne discussed stepping in to run it themselves 'under new management', but they couldn't agree, and as they were equal partners, the club closed.

1992: The Tabernacle was demolished

Images



Click on most images to see enlarged version

Images: An aerial view showing The Limes and the Wine Stores site c. 1971 (note no Hinton Hotel)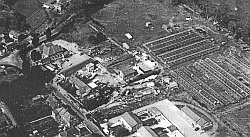 The 'Catisfield Superstore' - in 1991 (note the plants, etc., on sale, the customers, the opening hours ( "7 till late")


and

- in 1999, with the Hinton Hotel in the background