WELCOME







Origins
Catisfield House building is thought to have been built in the early 18th century (?about 17...).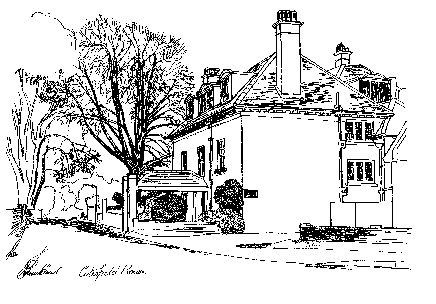 (drawing by Richard Frankland)
It was listed in ??? as a Grade II building

Some bullets from its history.......... (further ones welcome!!) with some info source details
1789 Henry Cort??? Inventory of his property says Catisfield House

1803Jul 11 Robert Biggs Vice-Ad died at Cat House -- from the The Monthly Mag
1835 E Byam lieut-col -- item says says 'the lady of Lt-Col E Byam had a daughter at Cat House' -- Annual Register, Volume 76 ed E Burke
1846 May 9 George Taylor infant son Keith died at Cat House
1848 Apl 8 George Taylor JP he appointed as a magistrate for Hampshire -- Sailsbury Jnl
1850 Mar 20 Thomas Aston Coffin Insolvency (he living with his father at Cat House) -- Sussex Advertiser

1870 Oct 22 Cat House To Let. Residence with 33 acres -- Hants Telegraph
1873 Oct 3 William Greene Sale Notice of the furniture and effects in consequence of the house being let. Inc 3 pianos. -- Hants Telegraph
1877 Jan 5 William Greene died at Hollam House, formerly of Cat House. Executors included Rose Elizabeth (daughter?) -- Hants Advertiser
1878 Henry Edward Leake -- Hampshire Directory ?

1880 Jan 21 Edwin Galt Col Col Grant recommended the firm that moved him from Emsworth to Catisfield - Hants Telegraph
?? Galt Col -- he mentioned in her book Alice James 1991
1881 Apl 7 Henry Somerset Leeke eldest son of Henry Edward married Emma Ley -- Bath Chronicle
20th April 1890, At about 6:15 on the morning Lieutenant-Colonel Francis Edwin Brace, owner of Catisfield House, shot himself at the house. The housemaid, Mrs Matilda Major, a widow, was downstairs about her early morning work, when she heard the report of a gunshot apparently coming from her master's bedroom overhead. She called his daughter, Miss Brace, who ran upstairs and found her father lying on the floor. Miss Brace locked the door of the room and sent for assistance, and on the arrival of Dr. Case from Fareham Colonel Brace was found to be dead He was discovered lying on his back, holding a dis-charged 6-chambered revolver. He was 52 years of age and left a widow, one daughter and two sons. The inquest was held just 2 days later, at Catisfield House itself, by the County Coroner (E. Goble, Esq.). Witnesses said that Colonel Brace had been depressed and had been having delusions - one was that he was ruined. Another was that the house was not his own. The Jury, after a very brief consultation, returned a verdict of suicide while of unsound mind. Note - the incident was widely reported, not just in the Portsmouth News, but also in the Times and [one wonders why] in the press in Wales, eg the South Wales s Echo, Scotland and Ireland . Some of these reports confuse things by saying the shooting was in Catisfield Lodge…

1890 Apl 22 Francis Edward Brace lieut-col inquest reports widely reported - said he was the owner -- P News, Hants Teleg
1891 Ellin Napier widow Ellin Napier and her household at the census had apparently moved from Catisfield Cottage to Catisfield House. (Catisfeild Cottage was recorded as 'Family Away) The 1891 census shows Ellin Napier as head of the household with William Rawdon Napier aged 13, Ellin Winifred aged 10 and 5 servants -- Census
20 Aug 1892 Marie Jeanne Buddicom -On the 17th inst., at Catisfield House, Fareham, Marie Jeanne Buddicom died (she was Ellin Napier's mother, and must have moved here from Wales. -- Portsmouth Evening News
10 Nov 1892 John Oliver worked for for Ellin Napier. In an advert in The Morning Post it said "Mr Buddicom wishes to strongly rcommend a Coachman, who is leaving owing to establishment being broken up"
1893 Reginald William Peel died May 21 -- Probate
1895 Peel Mrs -- Hampshire Directory ?
1897 Rose Elizabeth Greene Conveyance to her by Ecclesciastical Commissioners for England -- deeds

1898 Peel -- Mrs Kelly's Directory
1899 Peel Mrs Kelly's Directory


1901 Henry Lennox & Magdalen Peel and 6 others (servants?) -- Census
1903 Harry Lennox Peel Kelly's Directory
1904 Sep 20 H. L. Peel Sale notice - 450 lots of effects and furniture - Ports News
1907 Peel -- Kelly's Directory
1911 Census - House occupied by Henry Lennox Peel born: 1857 at Eardisley Herefordshire. No occpation given. Also there: his mother (widow) Magdalen S Peel Birth: 1826. Birth Place: Oxford. And a visitor Julia T Spooner (Female) Birth: 1853 Birth Place: Fastining Merionethshire. Plus six servants: Eleanor A Bass (Female) Birth: 1869 Birth Place: Cronton Leicestershire Amy E Sharman (Female) Birth: 1870 Birth Place: Dunbury Oxfordshire Margaret A Ellis (Female) Birth: 1876 Birth Place: Cliburn Westmorland Eliza Law (Female) Birth: 1884 Birth Place: Plymouth Devonshire Ernest A Rowland (Male) Birth: 1886 Birth Place: London
12/8/1914 Rose Elizabeth Greene made will
2/3/1917 Rose Elizabeth Greene died. Her will Catisfield House to trustees "for the use and benefit of poor ladies requiring a temporary convalescent home"

8/3/1924 The Official Trustee ( C. F. Ritchie, Secretary of the Board of Charity Commissioners) concurred in the conveyancing, in consideration of £3,500, paid by the purchaser for Catisfield House, 14.493 acres and 2 cottages. (Field 400, house and grounds. And Fields 880, 880a, 881, 398 - green on the map)
and the adjoining field in the occupancy of Mr F(rederick) Bunney 3 acres 1rood 7 perch (fields 879 and 882) - these are the fields to the south of the property, marked red. With right of way over field 399 and up to the rear of the privy of the cottages. ('Little Field' and 'Beech Hill' were eventually to be built in field 879 where it adjoined Catisfield Lane)
8/3/1924 Catisfield House map that accompanied the conveyancing - see opposite
8/3/1924 Purchaser assumed to be G E Maltby
3/6/1930 Gerald Edward Maltby made will
10/11/33 Gerald Edward Maltby died (he was a Director of Barclays Bank).
14/6/1938 Nos. 1 and 2 Catisfield Cottages conveyanced to Nora Kathleen Fielder (these are the two nearest Catisfield House, in the row of 5) However this information may be wrong since the 1911 Census clearly shows Nos 1 and 2 coming immeadiately after the Post Office
12/7/1938 His widow, Mabel Maltby, and Edward Frank Maltby (of 95A Elgin Avenue, London W9 - assumed to be the son) sold to Alfred Mark Streten (Dairy Farmer, of 20 Doyle Court, North End, Portsmouth the House, grounds and gardens (14 acres), "except 2 cottages recently sold to Mr Bunney". (not clear which cottages). The consideration was £3,250. The big house opposite - Elmshurst - having right of drainage across Catisfield Lane to cesspool.
29/9/1938 Mortgage taken out for £2,500 (at 5% pa)
22/9/43 Alfred Streten made will - appointed Mary Louise Streten and his son Alan Arthur Streten as executors

30/4/1944 Alfred Mark Streten died
8/12/1944 Probate granted. Mortgage still £2,500.
25/8/1947 Mary Louise Streten made will
15/9/1947 1.464 acres on the southern boundary sold to James Frederick Bates (Hants Electrical Engineers, 31 Redlands lane) for £625. (based on the size this was Field 2839, previously known as 879). Mr Streten paid £500 off the mortgage, leaving £2,000.
26/7/1954 Land with frontage onto the 'Catisfield to Bishops Waltham road' sold to Alfred Plumbridge Armstrong, for £900.
6/8/1954 £850 paid off the mortgage.
16/1/1956 Mortgage repaid - £1150
17/1/1956 New mortgage taken out on the property for £2,000 (at £5.10.0 pa).
31/5/1961 Mary Louise Streten died.
20/10/1961 Probate granted - passed to Alan Streten
4/12/1961 2 plots sold to Mr N Metherell (probably for 'Tregeare' and 'Lodge Field' - Mr Metherell lived in the latter)
26/10/1964 Alan Streten conveyed house and outbuildings to Reginald Victor Bates and Beryl Marguerita Bates. Mortgage paid off.
26/10/1964 Alan Streten conveyed adjoining building land to Richard Leslie Alexander Hawkins, of Hook) and Stephen Cooke (accountant of Portland Chambers, Fareham) for £15,500. The land then passed jointly to R L Hawkins Ltd and N Metherell Ltd. This is the Harvester Drive and Harmony site - the lower fields being kept, on the slopes down to the Meon, .
1965 Sep. Catisfield House becomes Meon Cross Boys School
17/3/1967 Deed of partition of the Harvester Drive land into plots 2/3/4; 5/6/7; 8/9; 10/11; 12 (12 is the site on Catisfield Lane, where Harmony was built next to Catisfield House)
8/83 Planning application to convert house into 7 flats and the two outbuildings also to 7 flats. (ref FBC 5530/38 for 14 flats - 9 2-bed, 5 1-bed, /39 for just 7 in the house) (nb there was coverage in the Portsmouth News 19/8 and 24/8)
22/9/83 permission refused for amended proposal for 12 flats (6 2 bed, 6 1-bed)
10/11/83 Permission granted for total 12 flats - 7 + 5
12/83 Amended plans
12/83 Convrsion started
15/6/84 Flats in the house advertised in the News by Austin & Wytt. Prices between £32,250 and 46,000 for 1 or 2 bedroom homes.
Images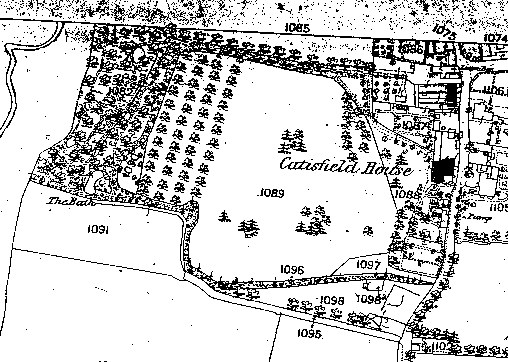 OS Map of 1880 - showing the grounds of Catisfield House, running down towards the River Meon. The field numbers changed at a later date. Note 'The Bath' (a pond, and pump?) in the south-west corner. Zoom in on picture.. Maxi-Zoom in on picture..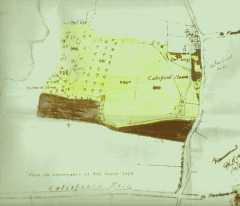 1924 map accompanying conveyancing - Mr Bunney's fields are marked red Zoom in on picture..


Catisfield Lane - looking towards Catisfield House (the white building to the left) Zoom in on picture.. Maxi-Zoom in on picture..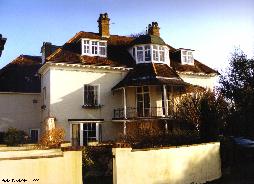 - Rear of Catisfield House 1999
Zoom in on picture.. Maxi-Zoom in on picture..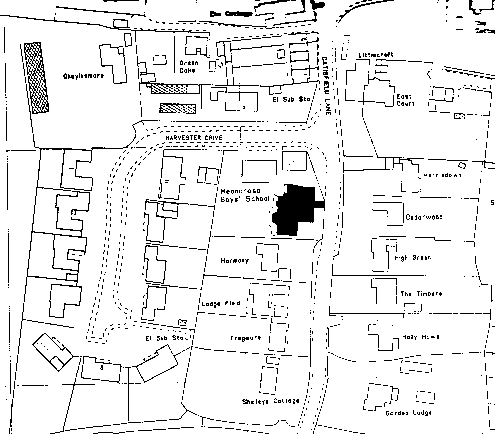 1978- showing part of the grounds turned into Harvester Drive
Zoom in on picture.. Maxi-Zoom in on picture..

modern Aerial View