The Area
1837 Tithe Map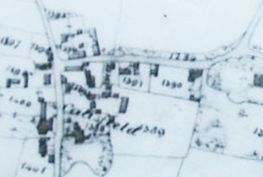 1932 OS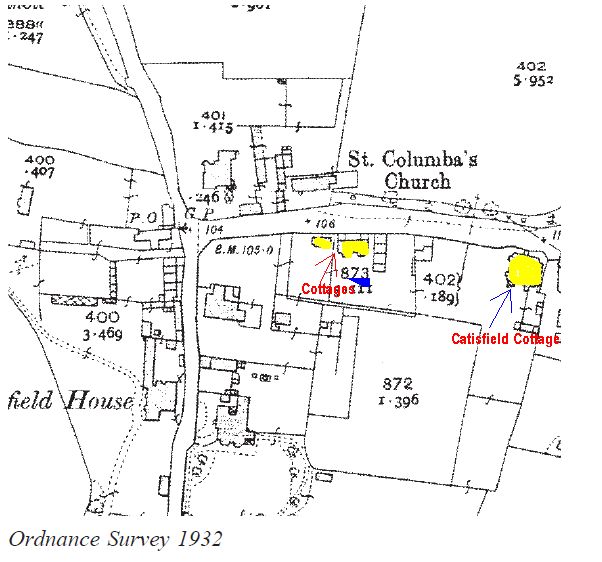 1964 OS




Places and Parts

Catisfield Cottage
MORE on Catisfield Cottage
The Conservation Area Character Assessment says:
Catisfield Cottage occupies a prominent position on the corner of Catisfield Lane and Highlands Road. It is listed Grade II. The C18 building has a western garden façade of red brick and grey headers with two curved bays and a clay tile roof. This elevation is partially visible above the garden wall flanking Catisfield Lane. The remainder of the building is 2½ / 3 storey and includes a side façade that faces the street. It comprises a number of wings built using red brick with tile hung gables to the rear. The building and its grounds form the eastern edge of the Conservation Area and mark the start of the older group of buildings on Catisfield Lane.
WILLS Ann Newman of Catisfield Cottage, widow of James Newman, Capt R.N. who lost his life on H.M.S. Hero, Christmas Eve 1811, when returning from the Baltic (George L. Privett in The Story of Fareham tells of this lady's call on the First Lord of The Admiralty to obtain a certain appointment for her favourite brother, who became Sir Edward Brace, Admiral K.C.D.) but from her will dated 19th April 1836 it seems this brother was rather out of favour, for she left him "Ten Guineas only for a mourning ring" - as during her life- time she had voluntarily reimbursed him of a sum of money which he had lost by a relative.
She left legacies to many other relatives, also to her 'servant' Emily Crockford, if still in her service, £200 free of legacy duty, and £10 each to all other servants in her employment at the time of her decease, also one quarter's wages, and £200 to The Naval Charitable Society for the relief of Widows and Orphans.
To her trustees and executors Rear Admiral Sir Edward Campbell Rich Owen, K.C.B., and William Owen, £100 each, and to another executor and trustee William Fitzwilliam Owen - £200.
In a Codicil dated 27th January 1840, as William Owen had departed this life she appointed Captain Henry Ducie Chads, R.N., C.B., in his place and bequeathed to him - £100, also her nephew Captain Francis Brace, R.N., as an executor. She desired the portrait of her late lamented husband to remain in the Brace family, 'who are capable of appreciating the virtues of so excellent a character' and it, with the portrait of herself, are to be handed to the care of her nephew Francis Brace.
To her brother Edward Brace, Admiral R.N,, K.C.3., she left her best silver teapot, sugar basin and cream jug "as mementos of my affectionate regard for him". To nephew Captain Herbert Brace Powell, R.N. her silver tea caddy. To Mrs. Brace wife of nephew Francis Brace her large coffee biggin and lamp. To nephew Thomas Brace her set of plated Dining Covers - according to a promise made him at time of purchase. To niece Mrs. .Ann Welsh one of her Silver Dishes with cover, and the other to her sister Mrs. Poyntz "As these were presented to me by my sisters on my marriage". The remainder of her plate and plated articles were to be divided among various members of her family as stated. To nephew Francis Brace her set of Table China distinguished by the arms of her late lamented husband, also her set of Dining Tables." To sister Mrs, Poyntz her China. Jars and the Miniature of her late husband - knowing she loved him as a brother and would duly appreciate its value. .
It was her desire to be buried in the Parish Church of Fareham in a Vault under her pew there, and the bearers of her body to be eight. . . .Farmers or Tradesmen of the Parish of Fareham, to be selected by her nephew Francis Brace, and to each the sum of £5 to be given. She confided to her nephew Francis Brace to execution of her wishes in this respect and to the conveying of her body to mother earth. 'I wish my executors to be informed that I have six hundred and twenty .pounds on the Sutton Estate' for which her brother, Sir Edward Brace, paid her interest at 5%, and this sum with all interest due at her decease to fall into part of the residue of her estate.
Probate granted – 14th November 1840 to – Sir Edward William Campbell Rich Owen, Henry Ducie Chads and Francis Brace and power reserved of making the like grant to William Fitzwilliam Owen when he shall apply for the same. (There is mention of Admiral Sir Edward Brace in Book VI Fareham Past and Present - and his will dated 1843, he lived at Catisfield Lodge)

Old Cottage known as "The Cottage"
(not to be confused with "Catisfield Cottages" just south of the Post Office).
MORE on the Old Cottage
The Conservation Area Character Assessment says:
Evidence has been discovered during renovation of LittleCroft to suggest that 23 Catisfield Lane has origins as a hall house dating from the early C16, subsequently altered in the early C18. The building probably pre-dates all the others in the village and is significant in the development of the settlement. It is constructed of red brick with an old tiled, half hipped roof and large centre chimney.
Both these buildings contribute to the character of the Conservation Area and are included on the council's local list.
General