Collage of recent (06/2014) photos of the Hall. (click on the photo to see enlarged version)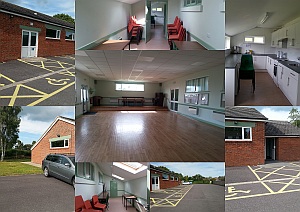 FACILITIES
Main Hall, with updated heating system
Separate meeting room.
Fully re-furbished kitchen.
Re-developed toilets.
Fully accessible with level floors, wide doors, accessible toilet, high contrast décor, hearing loop (on request).
Large grassed area.
Off-street parking.
Licenced for:
Maximum Seated Capacity - 100
Seated at Tables - 70
Dancing - 60-70
Yoga / Ballet Classes - 20

LOCATION
The Hall is at:
22 Catisfield Lane, Fareham

PO15 5NN

(just off the A27 and Highlands Road).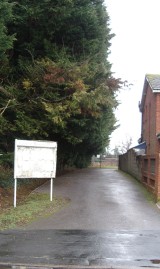 The Hall is set back on the north side of Catisfield Lane, between Highlands Road and Fishers Hill
(photo shows entrance to the Hall from Catisfield Lane).
HIRING
Very reasonable hire charges (with discounts for regular users).
Prices available on request.
To make a booking, contact the new Bookings Secretary:
Lorna Payne


Regular Meetings & Groups using the Hall include:

Several different Art Classes and Groups
Bridge Club; Cycling Club

Card Making, Blind Craft Group
Dance classes; Irish Dancing
Old Time/Sequence Dancing
<Catisfield Gardening Club (was Horticultural Society) - Meetings at 7.30pm on Second Thursday of most Months - details from 01329 Fareham 312 269 or see Catisfield Gardening Club Horticul.Soc.
Catisfield Gardening Club - Two shows a year on Saturdays
Yoga; Tai chi
Baby Sensory - a parent and baby bonding and development class for babies from Birth-13 months.
To see the latest (Sep 2015) published schedule as a 'PDF'
Click Here

LATEST
Jan 2016: The very latest Hall bookings calendar is available as a 'Google Calendar'. .....
Click Here to see the Google Calendar
News --- April 2013
At the AGM of the Memorial Hall in March 2013, Penny Melville Brown stood down as Hall Chairman. A new management committee is in place to continue the good work started by Penny.
Many, many thanks must be given to Penny for her efforts over 4 years, during which she has completely modernised the hall and put it on a sound footing for the future.
Taking over the reins as the new Chairman is John Ekins.



News --- March 2013
NEWS: New Bookings Secretary, from March 2013:
for details see left.



News --- January 2013

The Memorial Hall is now all spanking new with complete refurbishment throughout: all light, clean and airy to provide a comfortable and homely venue for any group or community event. Bookings have naturally increased but there are still spaces for new groups who want to book regular slots on Tuesday afternoons or Friday mornings. Just contact address / phone on the left.

The latest improvement has been to re-surface the car park so that it is both smart and safe with a number of disabled parking spaces. The Hall Committee has made special efforts to ensure that the building is accessible for everyone.

The Committee is keen to recruit new members and Trustees who want to be involved in a vibrant and progressive community facility. The commitment is only about four evening meetings a year - plus real enthusiasm to support the community. Please contact Penny if you would like to learn more.

News October 2011: New life for Village Hall


After extensive redevelopment over the past two years, the Catisfield Memorial Hall (just west of Fareham) has been completely rejuvenated: smarter and brighter main Hall; new kitchen, toilets and meeting room; much improved lighting, heating and accessibility.
The Hall already has a busy programme of activities open to the local community but still has times available for new groups seeking high quality premises and families looking for a venue for children's parties.
Chairman Penny Melville-Brown said, "We hope that new visitors will come to our pre-Christmas table-top sale on 19 November - just the chance for early birds to find perfect gifts - and see all our improvements to the Hall.
We undertook a major fund-raising exercise and are hugely grateful for contributions from Local Authorities, environmental trusts and some of our user groups. With the addition of our own reserve, we have managed to put over £85,000 in to giving this much cherished Hall a new lease of life. We had to move quickly as parts of the building were falling in to disrepair and the rest had hardly been touched for decades.
There was a real risk that users would move elsewhere because of the dilapidation - with local people losing easy access to lots of activities and making the Hall unviable financially.
Now, the Hall is a venue of which the local community can be proud and we are working to increase their use and involvement. Monthly coffee mornings run by the village association are already popular. And we hope to add to existing user groups - they ran
The recent refurbishment of the main Hall, mainly funded by a grant from the Big Lottery Awards for All, included replacing of tired and crumbling plaster, installation of a new ceiling and lighting system, improved electrical supplies and more. The Big Lottery Fund distributes half of the National Lottery good cause funding across the UK. The Fund aims to enable others to make real improvements to communities and the lives of people most in need.
Equally important, the SITA Trust contributed funding for the finishing touches: redecoration and sound-proofing internal windows plus new furniture, crockery and cutlery. Jools Granville of SITA Trust said, "We were delighted to be able to be the final piece of the jigsaw in rejuvenating this wonderful community facility."