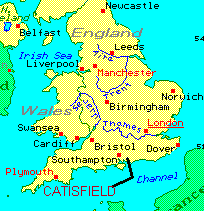 Catisfield sits between Portsmouth & Southampton, just west of Fareham. It's just to the north of the A27 trunk road, on the eastern brow of the Meon Valley.


It was first mentioned in 1210, in the Pipe Roll of the Bishop of Winchester.


Catisfield Ancient ... and Modern

The evolving History site
please have a look...

click here:
History - with many Images old and new

The road through Catisfield was once the main route between Fareham and Portsmouth to the east and Southampton to the west. Samuel Pepys probably rode through it on his travels as did Margaret of Anjou on her way to wed Henry VI at Titchfield Abbey at the bottom of Fishers Hill.

Once an independent hamlet, it has become adjoined to the town of Fareham.
It is part of two Conservation Areas, one of which protects part of the pleasant Catisfield Lane and the other covering the land going down to the Meon River and the historic Titchfield Abbey.

The Meon is a very attractive little river, which flows into the sea (the Solent in fact) less than 3 miles away.



Once upon a time Catisfield had some farms, with cottages for some of the workers. The farms have been built on.

Once upon a time Catisfield had a number of 'big houses' for the local gentry, the odd Admiral etc. With cottages for some of the servants.
Some of the houses have gone, a few remain (with different uses)
'The Limes' became a hotel, then a country club, then a public house (with often half-a-dozen excellent beers). Now replaced with houses.
'Catisfield House' became Meon Cross Boys School. Now it's flats.
'Catisfield Cottage' for many years was a Guest House providing Lunches, teas & accomodation. Now back as a private residence.
'Catisfield Lodge' was demolished
'The Mount' has become a nursing home
etc
Other amenities also have gone
The Post Office - Once a good focal point for the village, but regrettably this closed at a loss to Catisfield.
St. Columba 'tin tabernacle' Church and Sunday School was demolished - after being a night club for a while (the'106 Club).
The Hinton Hotel - Once a business hotel known as 'The Catisfield Hotel', (even boasting a 'Les Routiers' accreditation for its restaurant), but latterly operating more as a hostel. Demolished
The bus route ended - once there were direct buses to Fareham, Botley and Southampton.
The Limesdowne Petanque Club, which attracted players from all over the south to play on its terrains, had to move away when the Limes closed
But some things remain ......





The Catisfield Village Association exists to foster a village spirit and to try to preserve or enhance the village environment.
click here for the CVA page: CVA

Catisfield Memorial Hall

The Hall has become the focus of community activities. It is ideal for events, parties, meetings and other activities. Very reasonable hire charges. Click here for the Memorial Hall Catisfield Memorial Hall -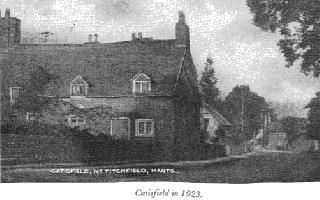 Catisfield

in about 1923.

looking at Catisfield Cottage and Catisfield Lane (towards the Post Office)