Doug Glading. Last update 9/11/2020
2. "Broderick House"  Schooll / Stranraer School
---
Location: unknown
Some earnings numbers for that era. Wages Per Year: in the 1700's
· Agricultural Labourers:  £17, 15s., 7d. average yearly nominal income, 1710.
· General Labourers:        £19, 4s., 5d. average yearly nominal income, 1710
·  Head housemaid,           5 Pounds (per year) – 1761
· Skilled men such as bricklayers and masons   33 shillings (per week) –
---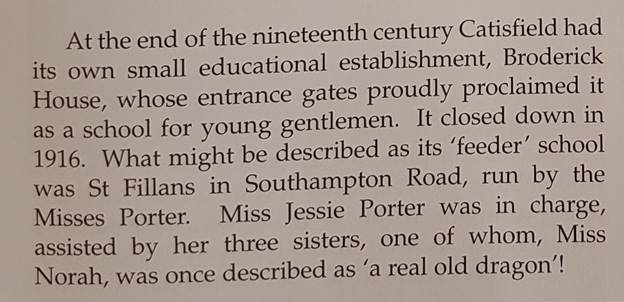 From (I think)  ''The Book of Fareham' by Brian Musselwhite, Lesley Burton
There seem to have been no adverts for this school. The location is not certain. A possible house  next to Heathfield Farm, on Catisfield Road near the Avenue/Peak Lane junction, called  Blenheim House doesn't appear on pre-1900 maps.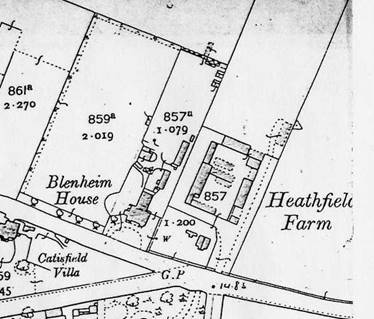 This house seems to have been divided in two and  became called Broderick Lodge and Stranraer.  However Stranraer School was definitely here in 1901 yet  the article above says Broderick House closed in 1916
Note that fields 859 & 857 appear to have been owned by a Mr W D Lowe
NB. There was also a "Broderick House"  school in Alverstoke c. 1907     
---
Stranraer School
A 1960 map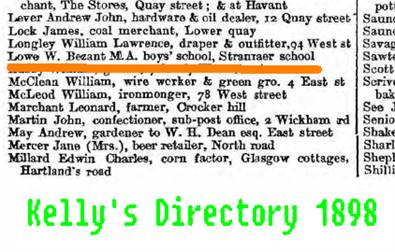 This school was  also for young gentlemen. It was run by Walter Bezant Lowe   (1854-1928)
He went to Rugby it is said  (becoming head boy?) and S. John's College, Cambridge, where he graduated in 1877 with a First (1876) in science, chiefly chemistry. From 1877 till 1879 he was on the Britannia as one of the tutors of the future king George V and his elder brother.
In 1888  he  ran Stranraer School Bournemouth.
In the 1891 Census  he lived at Mayles Farm House, Wickham. Had a small (boarding) school there.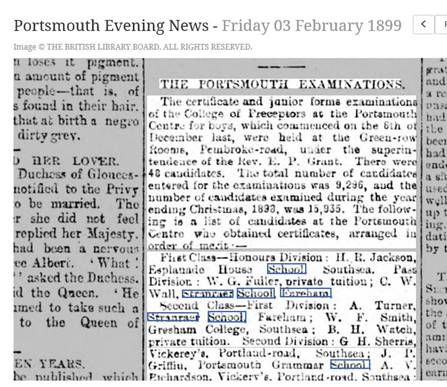 In the 1901 census  STRANRAER school is  definitely in Catisfield Road.  opposite  Catisfield Villa (aka Heathfield Cottage).   Living there are Walter Bezant-Lowe, wife Florence, Daughter Hilda, 2 assistant teachers, 11 pupils age 8 to 17, 4 servants.   There seem to have been no general press adverts for this school. 
The school there till at least 1906.
 

This
was the first professional body for teachers, founded in 1846;, it was an attempt to create and maintain professional standards in a profession which had at the time a poor reputation
 "Schoolmasters at that time, and especially masters of private schools, were not very highly esteemed, and the more worthy were prejudiced by the evil repute of quacks and charlatans, who looked upon school-keeping as nothing else than a mode of obtaining money by false pretences...There was a real merit in belonging to a body which existed in order to purge the profession"
Portsmouth  News reports of   1897, 1899,  1901 show  several boys from Stranraer gaining Certs
In 1904the school was  advertising for football matches wanted
---
The Barney family owned Lysses House  in Fareham High Street until 1946 when it was sold at auction for approximately £3000 to a schoolmaster, Mr Godefroy, who transformed the building into a boys' private day school.
The school ran very successfully for about 10 years, in conjunction with an offshoot at Heathfield House, Catisfield,  on the corner of the Avenue and Peak Lane  
This used to be the Senior boys and boarding part of Lysees school, the junior part of being in High Street. The boarders were mainly from wealthy families living abroad.  
After this time, Mr Godefroy moved the school to Rhinefield in the New Forest.


With the road widening in the 60s, parts of the building were demolished and it became the Heathfield Manor Hotel, nowadays  the Oast and Squire.
---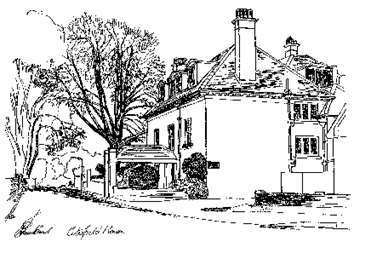 In September  1965 Catisfield House became Meon Cross Boys School


Under the Headship of Mr Meredith, in the school moved to a permanent site in Catisfield with numbers rising to 170 boys. It gained a reputation for preparing the boys well for the Common Entrance into public schools and local day schools including PGS, Christ's Hospital and Churcher's College amongst other academic institutions.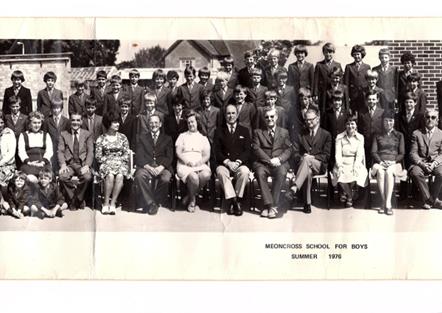 In 1969  in  response to parents who could find no comparable school for their daughters, Mr Meredith and Mr Timberlake purchased Burnt House and opened the doors to girls.
In1973 in  response to the changing face of education Meoncross became a senior school, thereby offering education up to GCSE. Ten years later and the whole school relocated to Burnt House and an extensive building programme began to provide modern classrooms, a technical block, language and science laboratories.
17/3/1967 Deed of partition of the Catisfield House land to give Harvester Drive – divided into plots 2/3/4; 5/6/7; 8/9; 10/11; 12 (12 is the site on Catisfield Lane, where 'Harmony' was built next to Catisfield House)
8/83 Planning application to convert house into 7 flats and the two outbuildings also to 7 flats. (ref FBC 5530/38 for 14 flats - 9 2-bed, 5 1-bed, /39 for just 7 in the house) (nb there was coverage in the Portsmouth News 19/8 and 24/8)
12/83 Conversion started
---
The original Sunday School met in a hut built by the Matthias family on Catisfield Lodge land roughly where Highlands Road crossed to the A27 in l966.
 It moved to the Church and the Memorial Hall after 1948. Mrs Young, Mrs Lawrence and Mrs Highland were the principal leaders, helped by many others including Justina Gardner, a member of the St. Columba choir, Mr & Mrs Hackett. Phyllis Mortimer, daughter of  Mr & Mrs Reginald Samuel Mortimer of The Limes was also a Sunday School teacher.
Mr.W. Smith was an enthusiastic and zealous worker with the Church of St. Columba. Catisfield, and was the Sunday School Superintendent there for over ten years.
Sunday Schools were by the late 1950s held in Fareham Park School and the WI Hut in Oak Road as well as the new St Columba Church on Hillson Drive.
NB The growing congregation of St Columba  was notably augmented by the "mustard" or "Custard" tops of Lysses House boarding School. The boys walked in crocodile from the School (now the Heathfield / Oast&Squire) for morning service.
0000000000000000000000000000000000000000