SHOWS
Each held in the Catisfield Memorial Hall, Catisfield Lane, Catisfield, Fareham.

Many Different Classes. Up to 70, in sections such as: Flowers; Veg; Fruit; Floral Art; Children's; Craft & Home Produce; and The 'Top Tray' & 'Top Vase' classes. All Members receive a copy of the Show Schedule and are encouraged to enter.
Visitors and new Members WELCOME

Plant Sales, Raffle, Tea, Auction
SPRING Sat 24th March 2012 viewing 1:30 - 4.

SUMMER Sat 30th June 2012 viewing 1:30 - 4.

AUTUMN Sat 1st Sep 2012 viewing 1:30 - 4


MONTHLY MEETINGS in 2012
at 7:30, in the Catisfield Memorial Hall, Catisfield Lane, Fareham PO15 5NN
Second THURSDAY of the Month
Interesting Talks on Gardening and other Topics too, Advice, Library, Raffle, Tea
Visitors and new Members WELCOME. Just come along for a meeting.
The 2012 Programme is wide and varied, and is of interest to anyone who enjoys gardens, gardening and our surroundings:

8th December 2011 Get-Together, Quiz + American Supper
12th January 2012 Jim Bettley - The Arctic Circle Expedition on 2 Wheels.
9th February 2012 Steve Harris - Hogs, Hops & Hangings.
8th March 2012 Les Ballard - The Amazon, Galapagos & South America
12th April 2012 Sally Burr - Make More of Your Plants (Propogation) Will bring plants to sell.
10th May 2012 Brian Madders - Chrysanthemums for all Seasons. May bring plants to sell.
14th June 2012 CHS Plant Swap Evening.
12th July 2012 Carol Watson - My Wild Alpine Collection.
9th August 2012 Dr Alick Jones - How can we make our gardens more wildlife friendly.
13th September 2012 Alan Martin - A Borneo Experience.
11th October 2012 Jim Love - Nepal, A Plant Hunters Trek.
8th November 2012 AGM + Paul Bowers - The Inca Trail.
13th December 2012 Get-Together + American Supper
For more information on the programme:
contact Alan Martin, CHS Programme Organiser
at 9 Harvester Drive, Catisfield, Fareham PO15 5NR
01329 312 269

or anyone on the CHS Committee

or email (see below)

EVENTS ----- Trips, Socials, Quizzes

see the June and December meetings

2012 Coach Outing to somewhere of interest - possibly Parham House near Arundel , details to be announced

also if possible an Evening outing to a local garden / nursery / etc - to be announced
Gardener of the Year
Each year the member who has achieved the most points across the three Society shows is named as the "Catisfield Horticultural Society Gardener of the Year" and awarded the Bob Campbell Trophy.
The 'Gardener of the Year' for 2011 was Doug Glading with 86 points, followed by Colin Parker with 76 points whilst third place was shared by Brian Mason and Ann Ryves with 46 points.
The RHS Banksian Medal for 2011 was also won by Doug Glading.
.
Committee Members 2012
Dennis Adams
George Baker
Gwen Butcher
Doug Glading
Alan Martin
Anne Ryves
Comments, queries and messages to:


© 1996, 2011 Catisfield Horticultural Society. On the Web since January 1996.
. . . Most recent revision 2nd Dec 2011
See also Catisfield - More Information about Catisfield.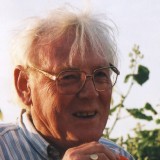 BOB CAMPBELL was Show Secretary from 1989 till his unfortunate death in September 2002. He helped this Society so much, in so many ways. He is sorely missed.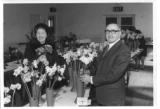 John Bridgland at the 1972 CHS Spring Show The CHS President, John Bridgland reached the grand age of 100 in August 2007. Unfortunately we have to record that John died on August 15th. He will be remembered as a staunch supporter of the Society for tens and tens of years, as well as for the many fuchsia varieties he bred.